Name: Wilson Oliveira Piazza
Born: February 25, 1943, Ribeirao Das Neves, Minas Gerais
First Professional Club: Esporte Clube Renascenca, Belo Horizonte
Wilson Piazza – The Ball Thief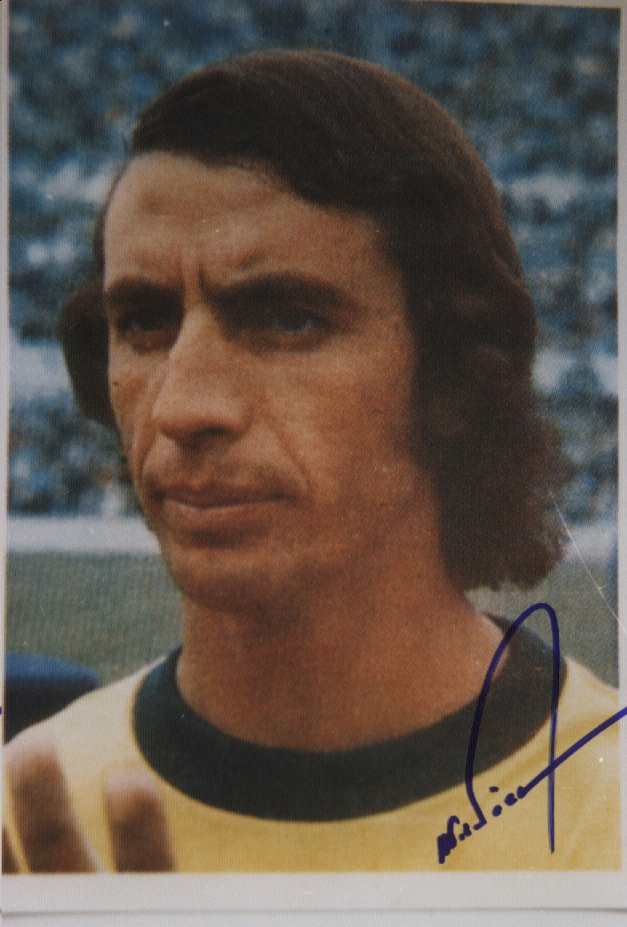 Wilson Oliveira Piazza was born in the town of Ribeirao Das Neves, Minas Gerais, on 25 February 1943, the son of Jose Piazza and Regina Da Silva Piazza.
He describes his childhood as an unremarkable one. His family were modestly comfortable. Piazza was an average student but left school at fifteen for an office job at a tyre company on the Avenida Antonio Carlos. The company had its own football team where he quickly shone.
Piazza was bright and acutely ambitious. He landed a job as a clerk at Banco Mercantil De Minas Gerais and for a while looked set for a commercial career. His true passion, however, was football: 'I wanted to be a professional. Even if I had to play in the worst team in the world, I knew I had to make that dream come true.'
For a time he juggled his two lives, playing football every morning until midday then working at the bank from 1 p.m. until 9 p.m. – or later. Piazza's job was to balance the bank's books at the close of business each day. Some days the figures fitted, some days they did not. 'We could not go home if there was a cruzeiro difference. Sometimes we were there until 11 p.m. or midnight. Once I didn't go home at all and slept in the bank.' He remained at the bank until he was twenty-three and able to live full time off his football. By then he had already emerged as an international in the making.
He was eighteen when he was offered a place as a junior at Esporte Clube Renascença. Though unimposing physically, his determination and intelligence as a ball-winning, creative midfielder soon established him as one of the rising stars in Belo Horizonte. His breakthrough came three years later, when he was transferred to Cruzeiro, a club about to put Mineiro football on the map.
Since the so-called Brazilian National Championship had begun in 1950, the trophy had never left the big two cities, Rio and Sao Paulo – hardly surprising since it was not open to sides from other states. It would not be until 1971 that a Mineiro side, Atletico, would win a genuinely pan-Brazilian title. Equally the international side was almost exclusively made up of players from the big city clubs.
Cruzeiro announced their arrival in 1965, when Belo Horizonte's 110,000 capacity Minerao stadium was opened. They beat Santos, and Pelé, 4–3 in a specially arranged match. A year later they beat Brazil's reigning kings of club football again, this time lifting the Copa Brazil, the nearest to a truly national title, as they did so. Mineiro football was on the map at last.
In 1966, Piazza's clubmate Tostao would be the first player from a Mineiro side to break into the national XI. Where he led, Piazza and other stars like Dirceu and Natal, and later Fontana and Dario, would follow.
Much like Santos, Cruzeiro were bonded by a tight-knit, brotherly atmosphere within the club. The directors' policy of selecting almost exclusively Mineiro players only deepened their devotion to the Cruzeiro cause. 'There was only one player, Raul, who was not Mineiro. So that team in the 1960s was like a family,' Piazza explains.
In the wake of 1966, the national squad was forced to cast its net wider in its search for players capable of making up for the disgrace. Piazza joined Tostao in the first Brazilian national squad assembled post-England under Aimore Moreira in 1967. By the qualification matches in 1969, he had formed a powerful midfield partnership with Gérson. Piazza's intelligence and tenacity looked the perfect complement to Gérson's visionary distribution. His nickname at Cruzeiro was ladrao de bola, the ball thief. He supplied the bombardier's bullets.
The energetic young Clodoaldo's emergence at the end of Saldanha's reign had, however, offered Zagalo an even stronger option. When a switch to the centre of defence was suggested after Carlos Alberto, Gérson and Pelé's Rio summit on the eve of the Austria match, Piazza had been reluctant. 'I was a combative player, I liked to be in the action in the middle of the pitch. Suddenly I found myself stuck at the back,' he says. A natural all-rounder, he made the transition comfortably enough in the match against Austria. Yet as Zagalo stuck with the idea of using him as a defender, he felt like a square peg alongside Carlos Alberto and Brito. 'I was used to giving more of myself. At the end of the game it seemed as if I hadn't played, my shirt wasn't wet,' he says. Piazza found himself repeating the phrase the cachaça-hazed Garrincha made infamous: 'Is it the end?'
He was, of course, not alone in playing out of position. With the exception of the defence, almost the entire midfield and attack was learning to adapt to a sometimes radical change in their position. To the Brazilian public, however, Piazza's new role seemed the most dramatic conversion since St Paul. It became one of the dominant debates in the press in the days after the squad's departure. Even his mother chimed in with a plea to Zagalo that her boy be restored to his rightful position in midfield.
Piazza's greatest fear was that he would not be able to compete with the Europeans' long-ball game. 'We called it the jogo aereo, the air game. I am 1.66 metres (around 5ft 10in) so I thought, "Oh my God, I'm here in the World Cup and they play the jogo aereo, they will do what they want".' Zagalo, however, remained convinced that with Clodoaldo and Piazza, he had the sheet anchors he needed to allow Gérson and Rivellino to play.
Piazza's calming, Mineiro influence would prove priceless in the weeks to come. On the eve of the opening match it deserted him, however. He recalls spending the night before the Czech match playing a card game, caxeta, with Carlos Alberto long into the night. 'After months of training you are anxious to begin. I was very nervous, like a bull.' The opening moments of his World Cup did little to ease his anxiety.
Piazza remembers feeling dazed after Petras' early goal. 'It was like if you were punched, not by Mike Tyson, but by a lightweight,' he says.
As Rivellino, Pelé and Jairzinho laid the foundation for a memorable opening win, Piazza felt the nervousness lift. He admits it never returned to haunt him again during the campaign. 'I was scared because I was so relaxed,' he smiles. Such composure was a rare commodity in a team that reflected the breadth of Brazil's colourful, regional character. 'The Carioca is more extroverted, he thinks he is the best, he jokes more,' explains Piazza. 'The Paulista is more hard-working, more conscious about being professional, maybe because in the big city people don't have time to complain, it's only work, work, work. The Mineiro is shy, more hospitable, communicative, they listen more.'
There were moments when the mild-mannered Mineiro influence of Pelé – a son of Minas by dint of his birth in Três Coraçoes – Tostao and himself saved the side from over-confidence, he believes. In the immediate aftermath of the opening 4–1 win the atmosphere in the dressing room had been euphoric. As far as some of the players were concerned, the Cup was as good as in Carlos Alberto's hands. It was Pelé who moored the more excitable temperaments with a little Mineiro wisdom.
'Pelé clapped his hands and made a short speech. He said: "It was good, but we must improve". Then he sat beside me. He knew what kind of person I was. He told me: "Piazza, if we don't say this there will be guys who will think that we are already champions".' Like his fellow Mineiro, Piazza knew there was no smoke until they saw the fire. 'It was Mineiro precaution. He was saying, take care.'
If England exposed any defensive deficiencies in Piazza's game, they centred not on his lack of height but his lack of a grounding in the game's black arts. He would never claim to have been an angel. If his memory serves him, he was sent off five times, but always for complaining to referees. As far as he is concerned, his nickname says everything about the way he played. The man was never the ball thief's target. 'I did not kick people,' he says simply.
In the aftermath of Lee's kick on Félix, Piazza had been asked to exact retribution. 'Carlos Alberto said: "We must stop this guy". I told him: "I'm not going to do anything".' Piazza had his own welfare in mind. 'I knew that if I did I would be punished because I never knew how to kick anybody. If you don't know how to do something and you try, it becomes ridiculous.' Carlos Alberto was left to mete out justice instead.
Piazza says he enjoyed the England match more than any other. 'I like a game that demands attention all the time,' he says. When I suggest he left the pitch that day with his first sweat-drenched shirt of the tournament he smiles. 'Yes, it was a good game.'
Piazza reverted to his old midfield role against Rumania. 'I played in Clodoaldo's position, Fontana replaced me as a fourth zagueiro,' he says. His energetic intelligence shone through as he linked well with his clubmate Tostao and Paulo Cézar. The win deepened his confidence that even without their stars, Brazil were a force to be reckoned with. 'You cannot be restricted to eleven players. You must have a well-formed group,' he explains. 'We won without Gérson and Rivellino. That was important.'
Piazza shared a room with his Cruzeiro team-mate Tostao. The two men were friends at Cruzeiro and socialized with their wives, Margot and Vania. 'Our friendship went beyond the four lines of the pitch,' he says. If Piazza had always been an unusually talkative Mineiro, Tostao had not. He preferred not to talk too long to friends as well as strangers. Piazza knew his friend well enough to cope with the silences. 'Sometimes I spoke to the walls,' he smiles. 'Or I went to other rooms. But I was used to Tostao.'
The press offered another alternative, of course. Piazza was among the older, wiser heads free to talk to the journalists allowed into the Suites Caribes. With Gérson and Carlos Alberto he presented a defiant voice. 'We cannot repeat 1966,' he had said in one interview. 'The Brazilian people do not deserve that again, despite the fact that they didn't support us. The people do not deserve defeat.'
Like every other player, he concedes they came closest to defeat against the old enemy Uruguay. Of all the Brazilian side, Piazza was the most painfully aware of the brutality he was about to face in the semi-final. He recalls, to the day, his introduction to the Uruguayan school of macho football. 'The twelth of June 1968, that is when I broke my leg at the Maracana playing against Uruguay,' he says. 'I admire Uruguay, besides they are bold, brave. If they want to fight with you they fight in your home, in their home. Their game is not like the Argentinian, that is more like Brazil, more technique; Uruguay use more force.'
He admits that he – and his side – played badly in the first half. Like Félix, he is still not willing to take the blame for the blunder that induced 110 million missed heartbeats. He says it was a mistake by Brito that forced him out wide to cover Cubilla. He did not dive in with a tackle because he was sure he could force the attacker further away from the goal by staying on his feet. Like Félix he wishes Cubilla had connected cleanly. 'It was a bad shot,' he says. When he hears Félix's explanation about the pitch markings, he cannot but arch an eyebrow and smile: 'I thought the pitch was perfect.'
Returning to his boxing analogy, he nods when I ask him whether Cubilla's goal was the closest thing Brazil encountered to a Mike Tyson punch. 'Yes,' he says. Yet by the time the team had dragged itself back from the edge of disaster and triumphed, Piazza's inner confidence had reached its zenith. 'When we won that game against Uruguay, I lay in bed that night and thought "We are the champions",' he says simply.